SmartMountain™ for Ski Areas

Earth Analytic, Inc.
is proud to present
SmartMountain™,
a suite of web and mobile applications designed to collect, organize and share information vital to maintaining snow safety and improving facility operations in ski areas and other alpine environments.We know that understanding your ski area's terrain is an integral component to ski area management and planning. Developed with ski area owners and personnel in mind,
SmartMountain™
is a cutting-edge enterprise solution that combines the remarkable advances that have been made in web-based mapping technology with custom data created specifically for your ski area. Built on the
ArcGIS
platform from GIS software leader
Esri
,
SmartMountain™
provides you with all the tools required to conduct and monitor ski area activities and operations with maximum efficiency, effectiveness and safety. This GIS solution entails hands-on training, terrain analysis, and GIS online web application development.
Avalanche and Explosives Tracking and Management

Accident Investigation and Risk Management

Snow Safety (Ski Patrol) Training

Real-Time Data Integration (e.g. weather, snow pits, Avanet SmartProbe data)

Facilities Operation/Infrastructure Management

Grooming and Snowmaking Optimization
SmartMountain™ saves time and money, makes your work easier and our mountains safer!
Already in use by Taos Ski Valley and Jackson Hole Mountain Resort,
SmartMountain™
is the answer to today's greatest challenges in ski area mountain management. With
SmartMountain™
, you will be at the forefront of technology and create a safer, more profitable ski area.
 For more information about our SmartMountain™ subscription plans, please call us at 505.349.0407 or email us at info@earthanalytic.com to arrange for a consultation. We customize each plan according to your needs and include training with each subscription.
Ability to document, track and analyze slope conditions with one tool

Ease of real-time data entry (no more log books or spreadsheets!)

Use of common language allows for consistent communication and information sharing

Database of record: Centralized and organized data assists in recognizing and evaluating patterns, resulting in more thoughtful planning and informed predictions

Rapid, intuitive retrieval of current and historical data (accessible on or offsite) improves decision making at all levels of management

Increases safety by minimizing accidents through pattern analysis of incidents

Reduces risk and potential lawsuits

Provides detailed current and historical weather patterns for visualizing/predicting

Saves money through more precise use of explosives and more efficient use of water, fuel and electricity

Saves time and money by reducing staff training time and labor hours and optimizing placement of equipment (i.e. snowmaking, snow cats)

Supports visualization of current and future mountain infrastructure (e.g. Gazex explosives locations, forest thinning, designing new runs, parking, etc.)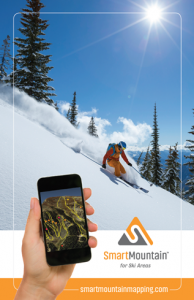 Download the SmartMountain Brochure